Updated Conference programme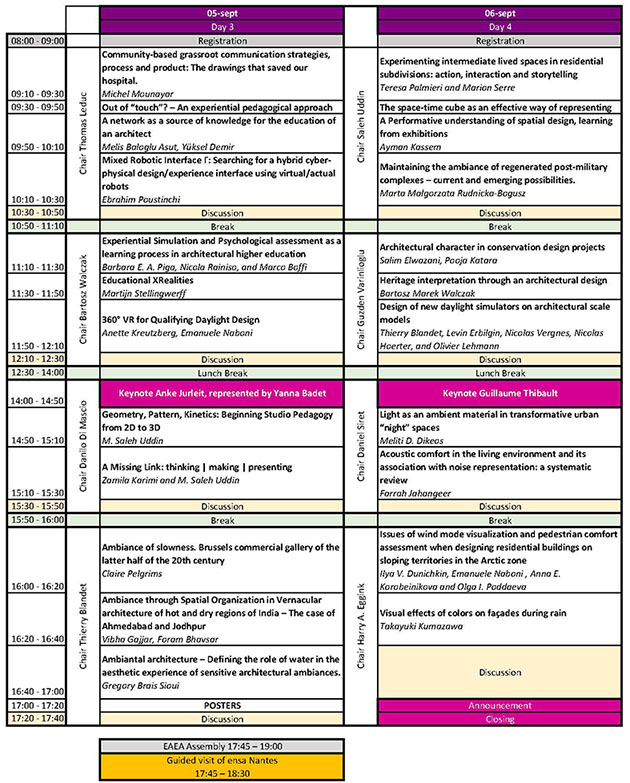 Here are the papers selected to be presented during the conference.
1. Ambiance, storytelling and immersion (representation and communication of medium including analog, digital and immersive environment)

01001 - Psychological, physiological, and phenomenological effects of colored light
Jennifer Scott and Judy Theodorson
01002 - Experimenting intermediate lived spaces in residential subdivisions: action, interaction and storytelling
Teresa Palmieri and Marion Serre
01003 - Augmenting Psychological Restorativeness towards Immersive Design of Underwater Ambiance
Nermin Sena Ozger, Gözde Damla Turhan and Guzden Varinlioglu
01004 - Traditional and Digital Representations of Atmosphere in Architecture. A first systematisation
Danilo Di Mascio and Yvette Putra
01005 - Post-flânerie: How do mobile devices shape the experience of the city?
Gorsev Argin,Burak Pak and Handan Turkoglu
01006 - Esquis'Sons! Sketching architecture by listening
Théo Marchal and Nicolas Rémy
01007- Digital Immersion - case studies in virtual reality
Christopher Welty and Arief Setiawan
01008 - Mixed Robotic Interface Γ: Searching for a hybrid cyber-physical design/experience interface using virtual/actual
robot
Ebrahim Poustinchi
01009 - "Characters in Search of an Author". Human figures and storytelling in architectural design communication
Fabio Colonnese
01010 - Exploring territories by documentary: the appropriation of public spaces by collective listening
Luciana Roça, Maria J. S. Martins and Marcelo Tramontano
01011 - Building the city as a stage, the example of Nantes
Emmanuelle Gangloff
01012 - Urban visions: back from the future
Olivier Chamel
01013 - The affective notes of represented space as motors of emotional and sensorial response
Elisa Morselli
01014 - Temporal Sections Conceptual Tool: Articulating Space and Time in Representing Urban Ambiances
Noha Gamal Said
01015 - Envisioning Ambiances of the Past
Guzden Varinlioglu and Suheyla Muge Halici
01016 - The atmosphere of a street: experimental fieldwork on urban ambiances
Andreas Wesener
01017 - Between ambiance and perception: heritage decoding
Anetta Kępczyńska-Walczak
01018 - Embraced by swirls of ether. Atmospheric imagination and the representation of assimilation and effect.
Juan Elvira
2. Ambiance and education (tools, techniques, and strategy of design teaching)

02001 - Branding Space: Deliberate Formations in Beginning Design
Margaret McManus
02002 - Architecture as Landscape
Yasmine Abbas
02003 - Perceptions of the nocturnal public space and technological innovations – citizen evaluation of a smart
public lighting installation in Nantes
Nicolas Houel, Dany Joly and Laurent Lescop
02004 - Studio_ L28: From a Socially Engaged Sound Art Practice to an Open Training Ground for
Sonic Design Experimentation
Caroline Claus and Burak Pak
02005 - Traversing and sculpting scape through pattern development: blending the natural and the built to
promote ambiance in early architectural education
Kristin Barry and Sean Burns
02006 - Teaching a thorough, repeatable design process for ambiances in architecture
Thomas M. Lesko
02007 - Envisioning the atmospheric effect through (im)materiality
Nilay Ünsal Gülmez, Dürnev Atılgan Yağan, Murat Şahin, Efsun Ekenyazıcı Güney and Hande Tulum
02008 - Experiments with visible and invisible materials: designing and building an ambiance
Céline Drozd, Virginie Meunier and Antoine Mabire
02009 - Community-based grassroot communication strategies, process and product: The drawings that saved
our hospital
Michel Mounayar
02010 - Out of "touch"? – An experiential pedagogical approach to daylighting in architecture and interior design
education
Gillian Treacy
02011 - A network as a source of knowledge for the education of an architect
Melis Baloglu Asut and Yüksel Demir
02012 - "Public Participatory Graphic Communications"
Harry A. Eggink
02013 - Experiential Simulation and Psychological assessment as a learning process in architectural higher
education
Barbara E. A. Piga, Nicola Rainiso and Marco Boffi
02014 - Educational XRealities
Martijn Stellingwerff
02015 - 360° VR for Qualifying Daylight Design
Anette Kreutzberg and Emanuele Naboni
02016 - Geometry, Pattern, Kinetics: Beginning Studio Pedagogy from 2D to 3D
M. Saleh Uddin
02017 - A Missing Link: thinking | making | presenting
Zamila Karimi and M. Saleh Uddin
3. Ambiance and Design (process, analysis, observation and execution of design for objects, space, built-form and urban environment)

03001 - Ambiance of slowness. Brussels commercial gallery of the latter half of the 20th century
Claire Pelgrims
03002 - Ambiance through Spatial Organization in Vernacular architecture of hot and dry regions of India –
The case of Ahmedabad and Jodhpur
Vibha Gajjar and Foram Bhavsar
03003 - Ambiantal architecture – Defining the role of water in the aesthetic experience of sensitive
architectural ambiances.
Gregory Brais Sioui
03004 - The Topological Reading of Ambiances in the Built Environment: The New Methodology for the
Analysis of the Luminous Ambiance in the Museum Space
Selma Saraoui, Azeddine Belakehal, Abdelghani Attar and Amar Bennadji
03005 - The space-time cube as an effective way of representing and analysing the streetscape along a
pedestrian route in an urban environment
Thomas Leduc,Vincent Tourre and Myriam Servières
03006 - A Performative understanding of spatial design, learning from exhibitions
Ayman Kassem
03007 - Maintaining the ambiance of regenerated post-military complexes – current and emerging possibilities.
Marta Małgorzata Rudnicka-Bogusz
03008 - Architectural character in conservation design projects
Salim Elwazani and Pooja Katara
03009 - Heritage interpretation through an architectural design
Bartosz Marek Walczak
03010 - Design of new daylight simulators on architectural scale models
Thierry Blandet, Levin Erbilgin, Nicolas Vergnes, Nicolas Hoerter and Olivier Lehmann
03011 - Light as an ambient material in transformative urban "night" spaces
Meliti D. Dikeos
03012 - Acoustic comfort in the living environment and its association with noise representation:
a systematic review
Farrah Jahangeer
03013 - Issues of wind mode visualization and pedestrian comfort assessment when designing
residential buildings on sloping territories in the Arctic zone
Ilya V. Dunichkin, Emanuele Naboni, Anna E. Korobeinikova and Olga I. Poddaeva
03014 - Visual effects of colors on façades during rain
Takayuki Kumazawa